About Sara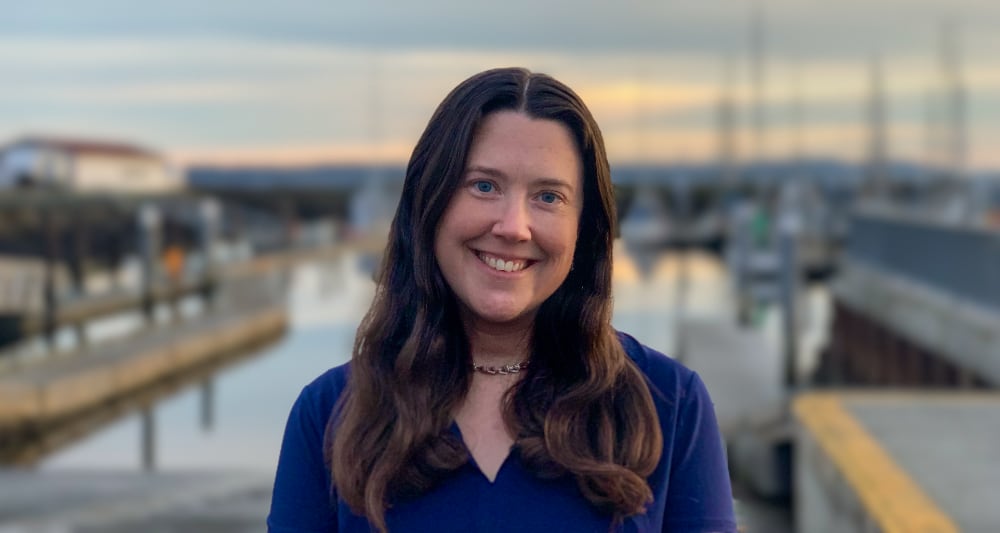 Professional
Back in the day, I drove my dad's old pick-up truck with a bumper sticker that said "destination unknown." I was born into an interest in observation and exploration, a habit of wondering and wandering, and an empathetic disposition. As such, my career path makes sense in retrospect.
My undergrad degree was in English and turned out to be as much of a study in communication and perspective-taking as anything I've covered in psychology. After teaching abroad and working in residential social service, outdoor adventure, and wilderness therapy programs for awhile, I eventually accepted that I had to go back to school again in order to continue working with people at a more advanced level.
Along the trail toward establishing Cross Country Counseling, I've worked in traditional mental health centers and residential treatment programs and backpacked hundreds of miles of wilderness with resilient teenagers. I've assisted three-year-olds and retirees and managed to reside in 20% of US states thus far. The most consistent thing I've encountered across all populations and settings is that people remain amazing.
It's amusing to find myself working on the internet, since I was last person I know to acquire a cellular phone, but at the same time this adaptation also makes total sense. It allows me to meet clients exactly where they're at while continuing my own mobility.
Personal
In my free time, I'm good at finding four-leaf clovers and spilling beverages on electronics. I spend a lot of time backpacking and I'm fascinated by abandoned buildings and foreign grocery stores. I like being on top of mountains and the free-fall feeling of waves and snow slopes. I have a slight tendency to over-propagate houseplants. I can't sit normally in an office chair for very long, and I have mastered the art of tumbling without breaking bones. The best piece of mail I've ever received was a fossilized pancake. I like having answers to the question "why," but I also thoroughly enjoy nonsense.
Personality
I'm calm, thoughtful, patient, honest, and grounded. I am adept at working with defenses and have respect for the legitimacy of wounds and scars. Most of us have earned our fears and insecurities, and I understand that we need ways to feel safe and accepted if we're going to take on difficult work.
At the same time, I also recognize that we need to experience challenges and develop trust in our capabilities in order to heal and grow. If you like to cope through avoidance, I'll be understanding but won't let you off the hook. If you like to deflect through sarcasm, I'm fluent. If you're dumping your stuff on somebody else, I'll let you know. If you can't recognize your worth or talents, I'll help you to see what you're missing.
Philosophies
We all have underlying personal assumptions that inform the ways we approach the world. Here are a few of my beliefs that impact my counseling practice:
We are not our problems.
Our problems are still ours to manage, even if unjustly inherited.
We are all individuals, yet none of us are as alone as we may sometimes feel.
Trying to change the unchangeable and trying to accept the unacceptable are reliable recipes for discontentment.
Happiness is a wonderful secondary outcome of our chosen actions and beliefs, not a permanently maintainable mood state.
Boundaries are created by controlling the territory of our own choices, not others.
All people are entitled to seek safety, freedom, and equality by virtue of existence; tolerance does not require acceptance of harm or injustice.
We should do our best—not because it entitles us to any particular outcome, but because it's a worthy endeavor and we're a worthy cause.
Change will happen around us and to us regardless of whether we rigidly deny, passively adapt, or actively engage. ...Might as well play.
Credentials
It's important to be able to verify information you find on the internet! So please feel free to:
View my professional licenses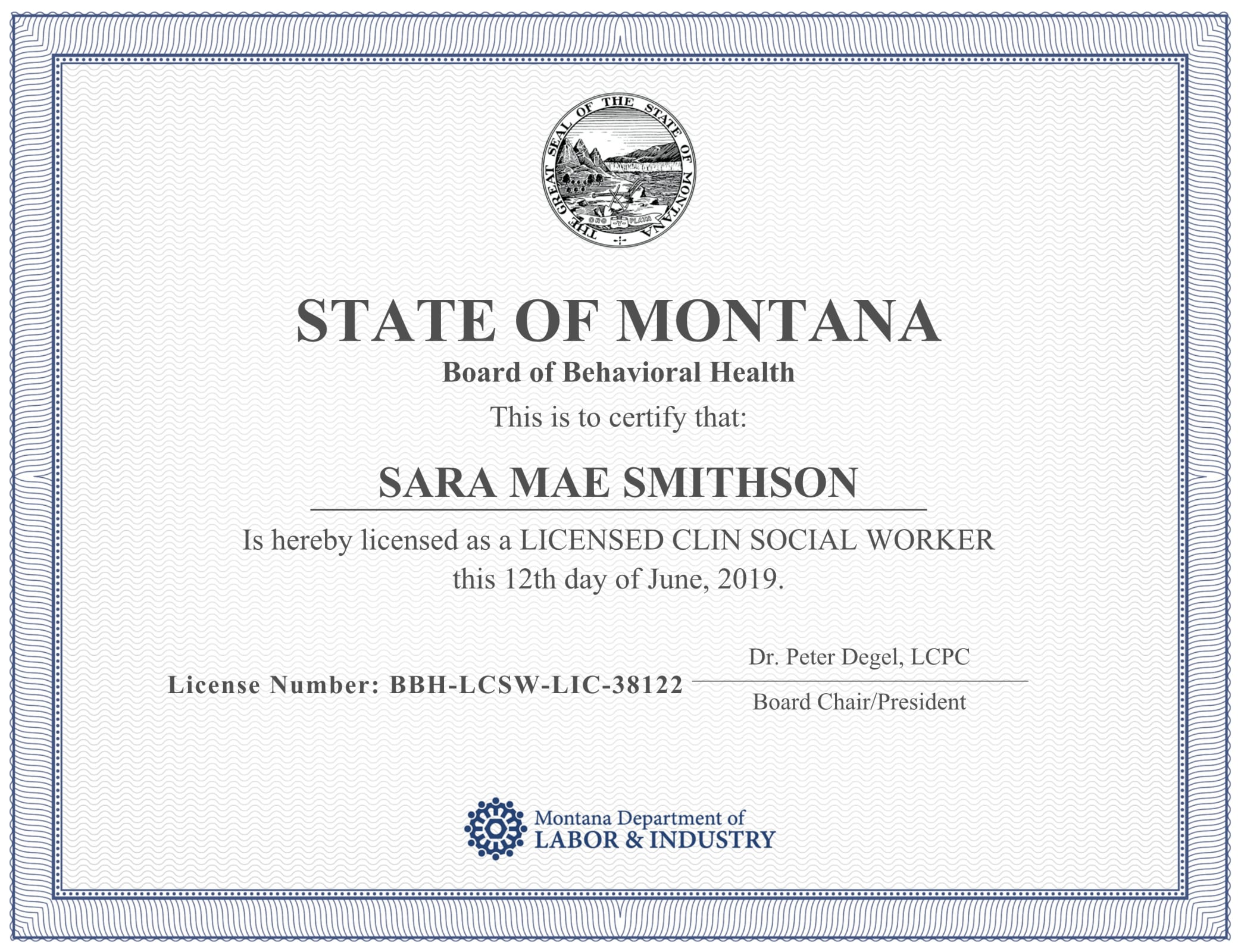 Montana: Licensed Clinical Social Worker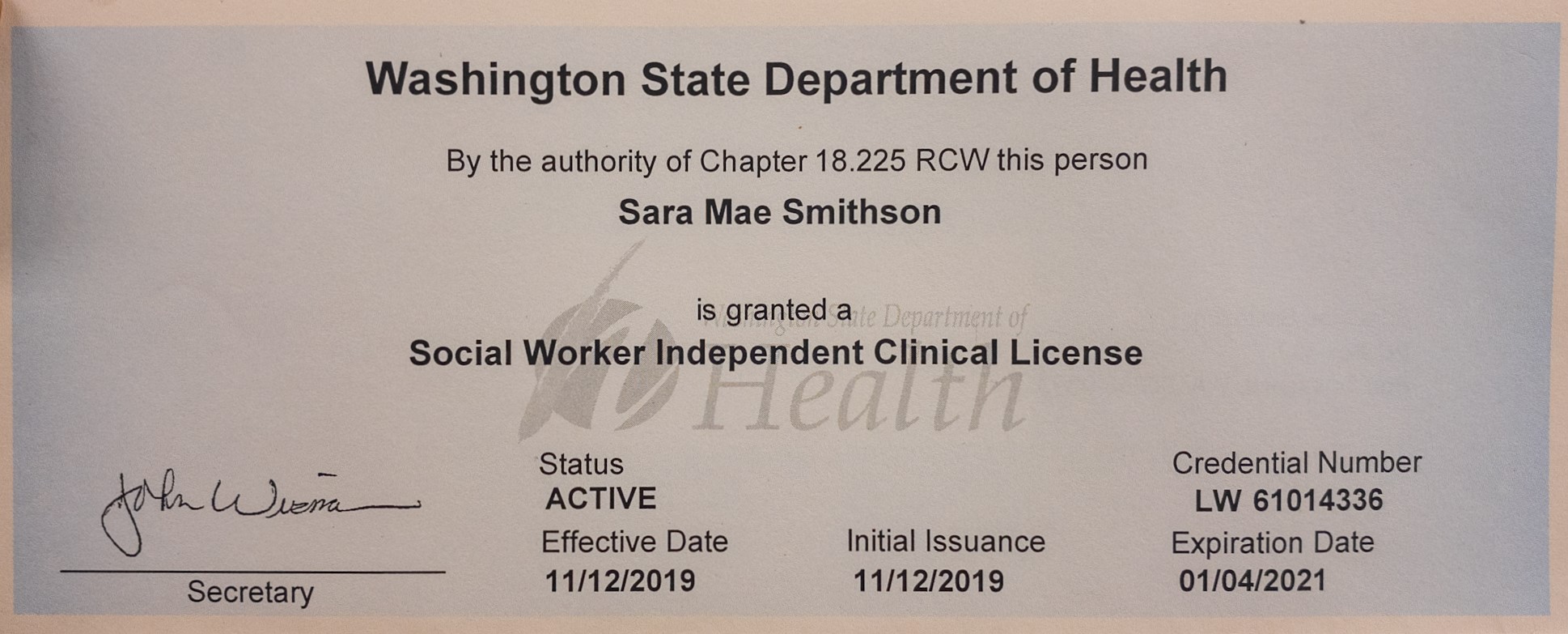 Washington: Licensed Independent Clinical Social Worker
View my degrees
MSW, Smith College School for Social Work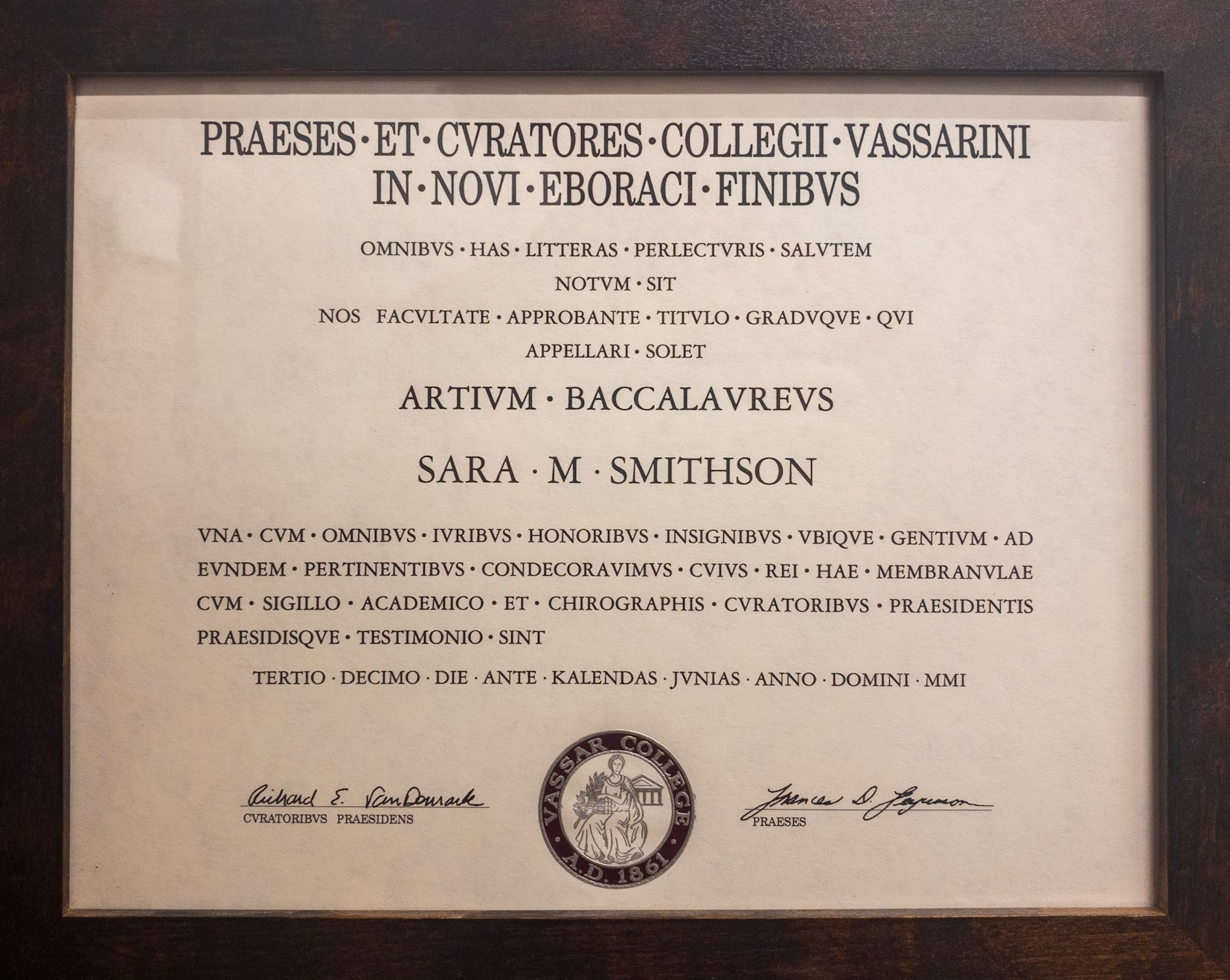 BA, Vassar College
View my business certificates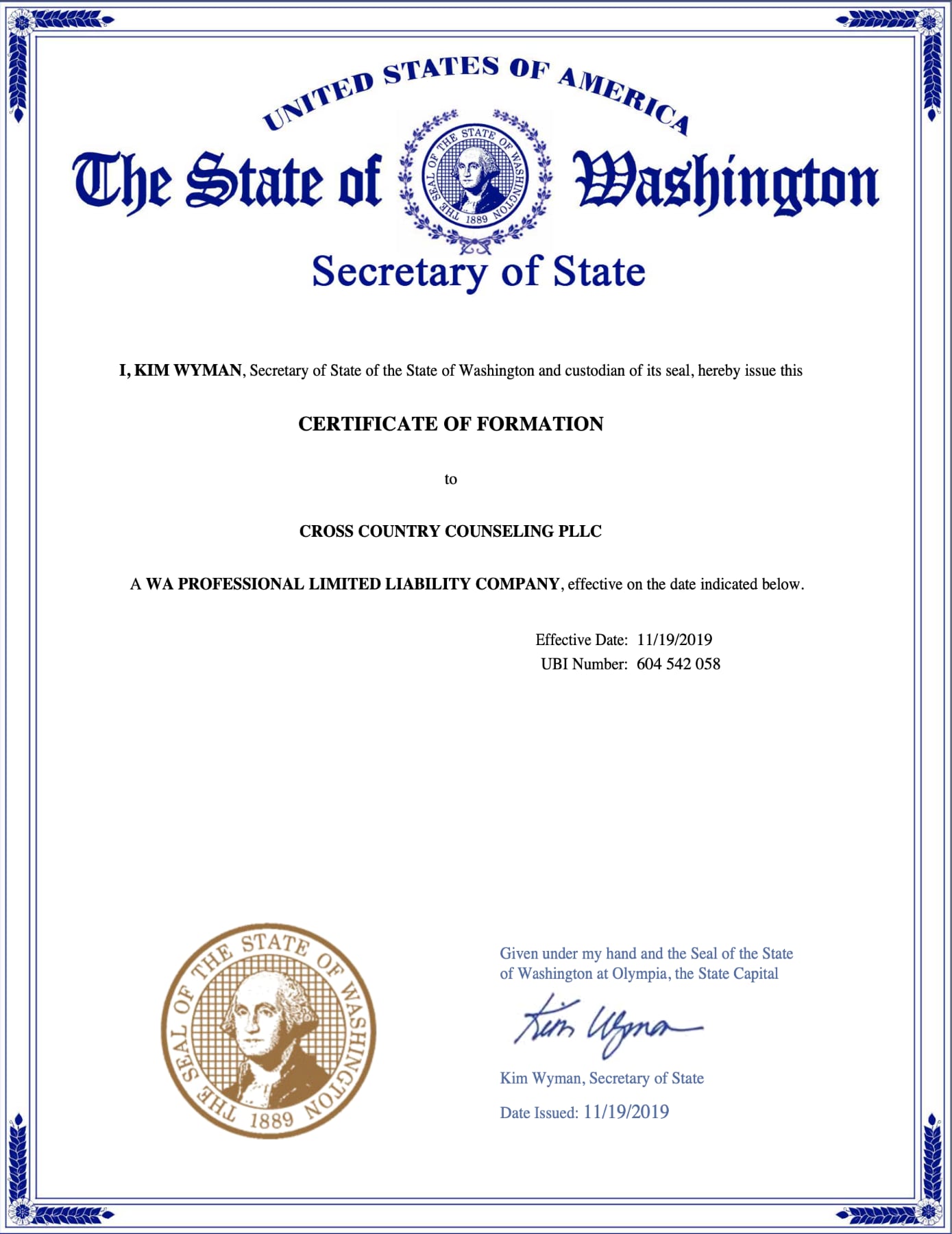 Washington Certificate of Formation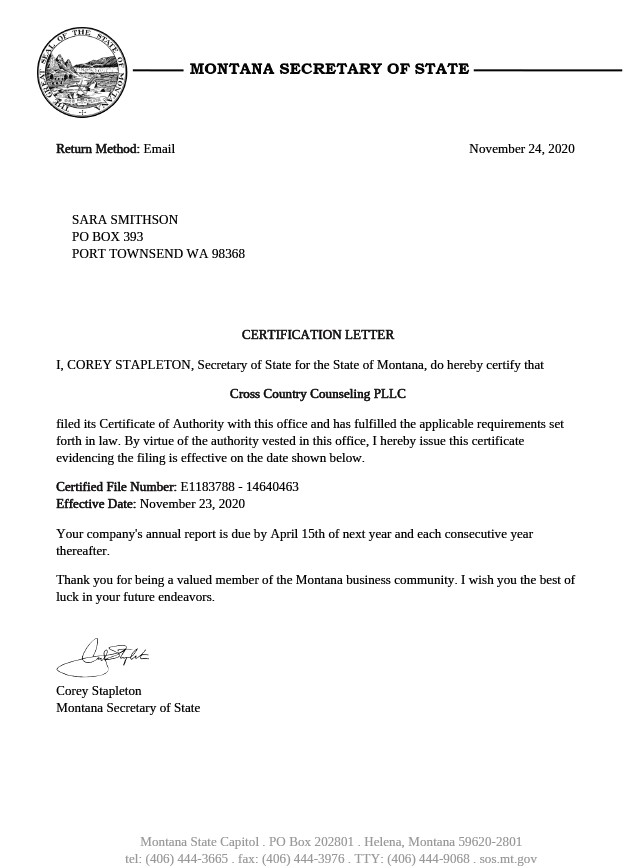 Montana Certification Letter
Verify my professional licenses
I don't upload new images every time I renew my licenses, so you may verify that they remain active with state boards using the numbers below.